Sonic

Feng Shui

Item #: DEVICD14
UPC: 629048091827

CD: $15.00 USD

MP3 Album: $9.99
CLICK HERE to preview & purchase individual songs

Award Winning record
Transforms bad frequencies present in the rooms where it is played into positive photons.

For three years, I was looking for a kind of music supportive of the Feng Shui principles.

The result of my work is recorded on Sonic Feng Shui, a series of highly powerful cleansing sounds which balance the elements creating harmony and healing.

Sonic Feng Shui uses advanced intuitive principles of sound design which consist of these unique attributes:
1. Specific harmonic placement of sound elements
2. Special resonances of musical spaces (intervals)
3. Regenerative effect of curved notes
4. Medical sound vibrations of Tibetan bells

The combination of all of the attributes exerts a synergistic effect and endows Sonic Feng Shui with the capacity to harness the flow of positive life energy.

This vibrational tune up can help maintain general physical-emotional well-being and activate the power of your natural healing force.

There is a direct interaction between you and your home, office or workspace. When your environment is healthy your mind is peaceful, when you feel inner peace your immune system is stimulated because the Yin and the Yang are balanced in you and around you.

This is why each composition on Sonic Feng Shui is created to suggest the mood of health, wealth and the intention of global success.

Be well,
Patrick Bernard
----------------------

What Sonic Feng Shui can do for you: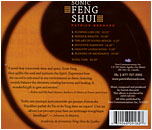 • Make you more productive and feel more peaceful simultaneously
• Enrich your environment and create balance in your life
• Make you feel at ease in your home and your workspace
• Help you harness the flow of positive life energy

The compositions on this album follow the intuitive principle of sound design to promote harmony. Each piece is created to evoke the mood of health, wealth and success. Through harmonious placement of sound design elements, this recording brings balance, blessings and abundance. Produced in 2005. Approximately 66 minutes.